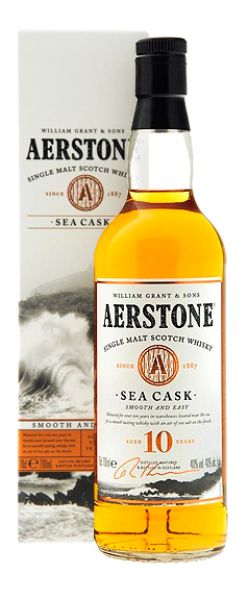 United Kingdom, Scotland
Aerstone 10YO Sea Cask 0,7 L
Product description
"Scotch ""single malt"" whiskey, carefully matured for more than 10 years in an intense environment surrounding a whiskey factory on the Irish coast, in the Scottish Lowlands.
There are two different styles of malt whiskey for the Aerstone brand. One is called Land Cask, which is richly smoky, and the other is called Sea Cask, which is gentle and velvety.
This is Sea Cask. Matured in warehouses next to the sea, whiskey with a hint of sea salt in its aftertaste.
Choose your taste and enjoy this unique bouquet of Scottish elements. Made in Scotland. """

Supplier
Amber Distribution Latvia SIA
Noliktavu iela 11, Dreiliņi, Stopiņu novads, LV-2130 , LV-2130 , Rīga , Latvia
Produkta izskats var nedaudz atšķirties no fotoattēlā redzamā. Jūsu saņemtās preces var būt dažādos iepakojumos un atšķirīgā izskatā vai formā.
Interneta veikala produktu apraksti ir vispārīgi un var atšķirties no informācijas uz preces iepakojuma.
Pirms lietošanas mēs iesakām iepazīties ar informāciju uz preces iepakojuma.
Noliktavā esošo preču skaits ir ierobežots.